GJX(F)H is generally used as connection part in last 1 kilometer between optical distribution point and users' premise. Its compact structure provide the advantages of light weight and small size. In the middle of cable, it's fiber, which can be 1-4 cores. On both sides, there're two parallel steel wire(FRP) to strengthen tensile of cable. At last, sheathed with LSZH/PE/PVC material.
Fiber Type: G652D, G655,G657A,G657B
Strength Member: 0.5mm Steel Wire Or FRP
Material Of Jacket: UV And Flame Resistant LSZH
Color: Black /Grey/White
Main Features:
1. Special low-bend-sensitivity optical fiber, providing greater bandwidth and enhanced network transmission characteristics.
2. Two parallel FRP strength members ensure good performance of crush resistance to protect fiber.
3. Simple structure, light weight and strong practicality.
4. Novel flute design, easily strip and splice, simplify the installation and maintenance.
5. Low smoke, zero halogen and flame retardant sheath.
Technology Requisition(Structure Design):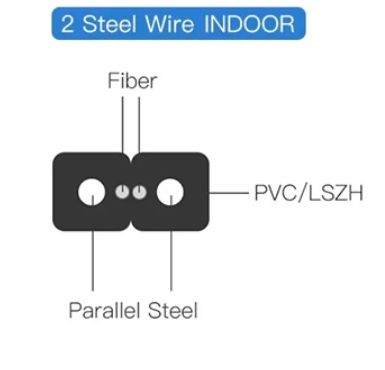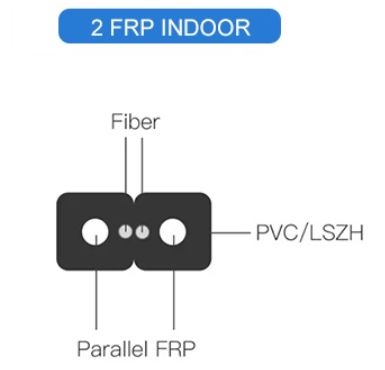 Notes:
Only a part of Drop Cables are listed here. We can depend on customer's requirement to producing the different model Drop Cables.
Packing:
Our packaging box can not only achieve 7 layers but also can bear the weight of two adults,The picture below is sent by our customer.
Application :
1. All types of fiber cables with different structures
2. High performance optical network operating
3. High speed optical routes in buildings (FTTX)